Arizona, one of the hottest states located in the deserts and the 48th state, has a variety of southwestern nature that you will find. Last summer, my family and I visited Arizona for the first time and we took a couple road trips to see some nature sightings and road tripped through half the state of Arizona. One of our views were the Superstition Mountains and Canyon Lake located near Mesa, Arizona and on the Apache Trail.
The beauty of the Superstition Mountains
The place was not a long drive at all from where my cousins' house was, a short 30 minute drive from Mesa. The Superstition Mountains are the largest mountain ranges you'll see by Phoenix and you will find jagged, volcanic-like peaks, and canyons driving through the mountains. There are saguaro cacti pretty much everywhere in between.
Driving through these mountain ranges from the long stretched roads was one of my favorite experiences because you get to see a pretty view no matter where you are driving and huge cliffs and boulder rocks shadowing over you. That's the joy of being in the southwest like Arizona, your drives can be fulfilled with never-ending views especially if you're unfamiliar with the views coming from an East Coast girl.
Driving along the Apache Trail
We then drove to a look out to see the Apache Trail. While these places are perfect for hiking and camping, we didn't do those (simply because some of my family just can't) but was still overjoyed to see more sightings. In the Apache Trail, you can see a lake and canyon mountains.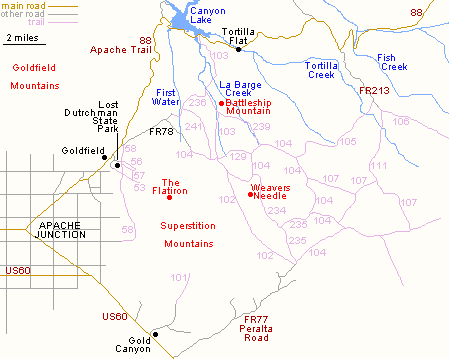 "The Apache Trail combines the grandeur of the Alps, the glory of the Rockies, the magnificence of the Grand Canyon and then adds an indefinable something that none of the others have. To me, it is the most awe-inspiring and most sublimely beautiful panorama nature has ever created."

-Theodore Roosevelt
Exploring the stunning Canyon Lake
After seeing the Apache Trail, we were planning to go take a boat ride through the Canyon Lake but we missed out on the timings so it was no longer available to us. However, we just sat by the tables and benches and took a dip (I didn't wear my bathing suit and wishing I did so I was able to swim on the refreshing and shallow waters). My cousin and my sister were swimming in the waters and we met some locals and played with their dogs and with little kids.
If you ever come across these places in Arizona, take advantage of the sceneries and take a dip in the lake. Don't miss out on scheduled boat rides and don't forget to bring your bathing suit. Most importantly, enjoy your road trip.
---
Pin It!