Movies can feel so surreal, just like when you're experiencing adventures in real life, and they really can tug onto your heartstrings. Watching from characters' perspectives can help you understand better with the stories they tell and the places they're in can tell a lot about the story. There are movies that are set in wonderful locations in the world. There is also that part in the movie where people go to certain places to give them a breather and make you feel like you need that too. That is what makes viewers like us want to live a life full of adventures or face our difficult lives with things that make us focus on other sentimental things. Here are some movies I think you should see to give you that feeling:
Into the Wild (2007)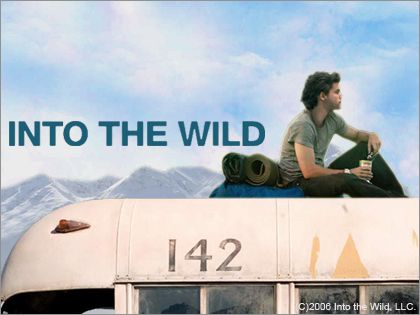 Directed by: Sean Penn
Actors featured in the movie: Emile Hirsch, Marcia Gay Harden, Jena Malone, Vince Vaughn, Kristen Stewart
A man named Christopher McCandless, a top student and athlete, chooses to abandon his possessions, give his entire savings to charities, and decides to live in the wilderness. He tries to live for the real adventures and tries on his own to live in the wild using his knowledge accumulated through his solitude and not needing much possessions in his journey like what we acquire in our commonplace society: cars, money, tasty jewelry and accessories, and obligations to do. He sees the sins of pleasure and the way people treat each other bad are not the way to live. He wanted to travel in search for true happiness and that is to be happy for what he's seen and felt through the journey. Although his happiness costed him the strength of himself, it's apparent that preparation in these adventures that can easily change one's journey. His journey in the movie takes place in places like Virginia, Georgia, Arizona, California, South Dakota, Alaska, etc. This is based on a true story.
Wild (2014)
Directed by: Jean-Marc Vallee
Actors featured in the movie: Reese Witherspoon, Laura Dern, Thomas Sadoski, Michiel Huisman
A woman named Cheryl Strayed has lost all hope after her marriage fell apart and after her mother passed away. Her emotional pain has led her into a reckless and destructive behavior, where then she decides to embark on a long hike to help her into understanding her pain and with no absolute experience, she uses her determination to hike more than a thousand miles in the Pacific Crest Trail. Through her journey, she experiences both fear and hope and ultimately challenges herself to a spiritual journey where she faces the pain that traumatized her. This movie was based on Cheryl Strayed's memoir book Wild: From Lost to Found on the Pacific Crest Trail.
Beaches (1988)
Directed by: Garry Marshall
Actors featured in the movie: Bette Midler, Barbara Hershey
Two women, who both share a friendship but both come from different backgrounds, shares 35 years from their childhood to love and to tragedy. Cecilia Carol Bloom, also nicknamed as C.C., is a free spirited woman that is a New York actress and singer, and Hillary Whitney, an uptight lawyer and heiress, both see each other accomplish things and face challenges over the span of the years. You see both of them face jealousy from each other to having their marriage fall apart and to facing terminal illness that tests the real strength of their love for each other as two best friends. This is a touching story that will move you to rethink of your closest relationships. In the movie, you see the characters go to different locations to unravel the story between them. C.C. and Hillary meets each other in Atlantic City and keeps contact with each other. You see C.C. meet with her mother in Miami Beach. You also see locations transition from New York to San Francisco.
The Descendants (2o11)
Directed by: Alexander Payne
Actors featured in the movie: George Clooney, Shailene Woodley, Beau Bridges, Robert Forster, Judy Greer
Taken place in various locations of the beautiful Hawaii, Matt King, an attorney based in Honolulu, is the trustee of a family trust and while the trust doesn't last for long, his family is pressuring him to sell the land for millions of dollars. While deciding what the outcome should be, he also goes through personal troubles. His wife Elizabeth is in a comatose after a boating accident and is left to just take care of his two troubled daughters. Matt is put into no choice but to rethink about his past and his future and what right decisions he should make. This is a movie that will make you understand how facing tragedies can also have underlying meanings to one's life.
P.S. I Love You (2007)
Directed by: Richard LaGravenese
Actors featured in the movie: Hilary Swank, Gerard Butler, Lisa Kudrow, Gina Gershon
A grieving widow, Holly, is deeply affected by the sudden death of her husband Gerry and soon after, she discovers her husband has left a series of messages in ten months that contained tasks that will help her overcome her sorrow. While some of these tasks may seem like an attachment from the past, they are hidden signs that will help Holly learn to accept and move on from the tragic loss of her husband. Part of the movie takes place in beautiful Ireland, which is Gerry's homeland.
Coal Miner's Daughter (1980)
Directed by: Michael Apted
Actors featured in the movie: Sissy Spacek, Tommy Lee Jones, Beverly D'Angelo, Levon Helm
I don't know what it is but I love movies based on the lives of country singers as they are always so interesting. This one was based on the country singer Loretta Lynn's life. Having been living in poverty in Kentucky to being married at 15 years old and starting a family young, she starts her singing career by singing in local honky-tonks to having her husband travel with her to have radio appearances. After a recording label discovers her, she then travels to Los Angeles to record her first single. She goes on a promotional tour all throughout the south. She faces tragedies and challenges that caused her to have a nervous breakdown. This is an incredibly moving movie that will make you want to believe in yourself and chase your dreams, no matter what obstacles comes in the way.
Eat, Pray, Love (2010)
Directed by: Ryan Murphy
Actors featured in the movie: Julia Roberts, James Franco, Richard Jenkins, Viola Davis
A woman named Elizabeth Gilbert had the perfect life that most average Americans dream of: a house, a husband, and a good career. After divorcing her husband, she finds herself in confusion and starts to question what she really wants out of her life. So she decides to get out of her comfort zone and embark on journeys from Italy to India and to Indonesia to see if she can rediscover and connect with her inner self throughout her travels. This is a movie that will have you learn a couple of lessons from what Elizabeth starts to learn by being in a place that she didn't come from.
I highly recommend you see these movies if you like movies with drama and realistic feels to them. You might feel connected to one of these movies and might be able to relate or you might just feel inspired. Get some popcorn and enjoy. 🙂
---
*Photo credit to featured photo: Here